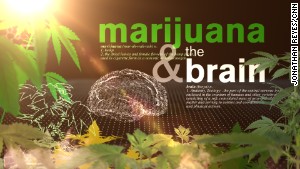 This is precisely why Hurd started to look to other substances to help and settled on nonpsychoactive cannabidiol or CBD, one of the primary components in cannabis. Hurd and her team discovered that CBD actually helped "restructure and normalize" the brain at the "cellular level, at the molecular level." It was CBD that healed the glutamatergic system and improved the workings of the brain's frontal lobes.
This new science sheds lights on stories like the one I heard from Doug Campbell of Yarmouth, Maine. He told me he had been in and out of drug rehab 32 times over 25 years, with no success. But soon after starting cannabis, he no longer has "craving, desire and has not thought about (opioids) at all, period."
For the past 40 years, we have been told that cannabis turns the brain into a fried egg, and now there is scientific evidence that it can do just the opposite, as it did for Campbell. It can heal the brain when nothing else does.
I know it sounds too good to be true. I initially thought so, as well. Make no mistake, though: Marc Schechter and Doug Campbell are emblematic of thousands of patients who have successfully traded their pills for a plant.
These patients often live in the shadows, afraid to come forward to share their stories. They fear stigma. They fear prosecution. They fear that someone will take away what they believe is a lifesaving medication.
Where do we go from here?
Mr. Sessions, Dr. Mark Wallace has invited you to spend a day seeing these patients in his San Diego clinic and witness their outcomes for yourself. Dr. Dustin Sulak could do the same for you in Portland, Maine, as could Dr. Sue Sisley in Phoenix. Staci Gruber in Boston could show you the brain scans of those who tried cannabis for the first time and were then able to quit opioids. Dr. Julie Holland in New York City could walk you through the latest research. All over the country, you will find the scientists who write the books and papers, advance the science and grow our collective knowledge. These are the women and men to whom you should listen. They are the ones, free of rhetoric and conjecture, full of facts and truth, who are our best chance at halting the deadly opioid epidemic.